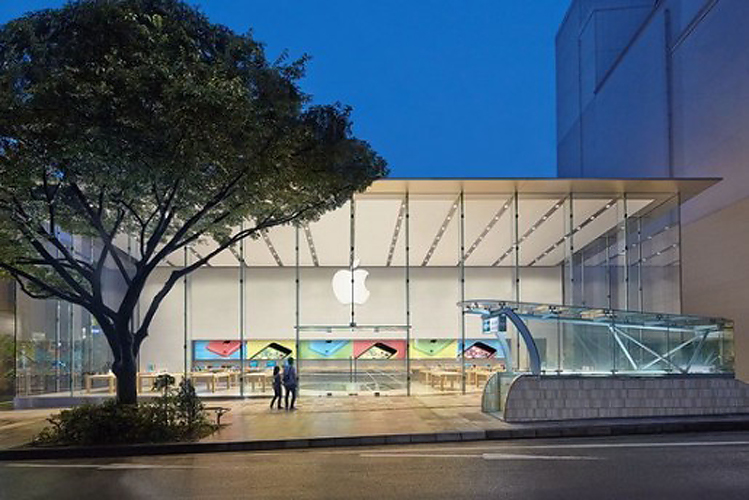 Apple's Newest Japan Retail Store to Open in Omotesandō
Tokyo's newest Apple Store, designed by Bohlin Cywinski Jackson, is scheduled to open Friday.
The store joins two other Tokyo locations and will be one of eight Apple Retail Stores in Japan.
The two-level store consists of a 9.5 meter-high glass façade, a one-of-a-kind stainless steel and glass circular stair, a seismic-resistive base-isolation system, and a sculpted stainless steel roof that cantilevers over the product display floor. The store's exterior site design is the latest in urban landscaping, complying with Tokyo's 10-Year Greenery Plan and helping to reduce the store's carbon footprint.
Bohlin Cywinski Jackson designed the store in collaboration with executive architect Jun Mitsui & Associates, and a consultant team that includes Arup, Eckersley O'Callaghan, and ISP Lighting Design.
As Apple's third pavilion-concept retail store, Omotesandō follows the opening of Palo Alto's Stanford store last September and Portland's Pioneer Place, which opened on May 31. This newest Tokyo location coincides with two other Bohlin Cywinski Jackson-designed stores scheduled to open this month in Aix-en-Provence and Madrid.
Bohlin Cywinski Jackson has designed many of Apple's high-profile stores over the past 12 years, including stores in New York, London, Berlin, Shanghai, Paris, Hong Kong, and Barcelona.
Japan's Apple Retail Stores Designed by Bohlin Cywinski Jackson
Apple Store, Omotesandō (2014)
Apple Store, Sapporo (2006)
Apple Store, Sendai Ichibancho (2005)
Apple Store, Fukuoka Tenjin (2005)
Apple Store, Shibuya (2005)
Apple Store, Nagoya Sakae (2005)
Apple Store, Shinsaibashi (2004)
Apple Store, Ginza (2003)