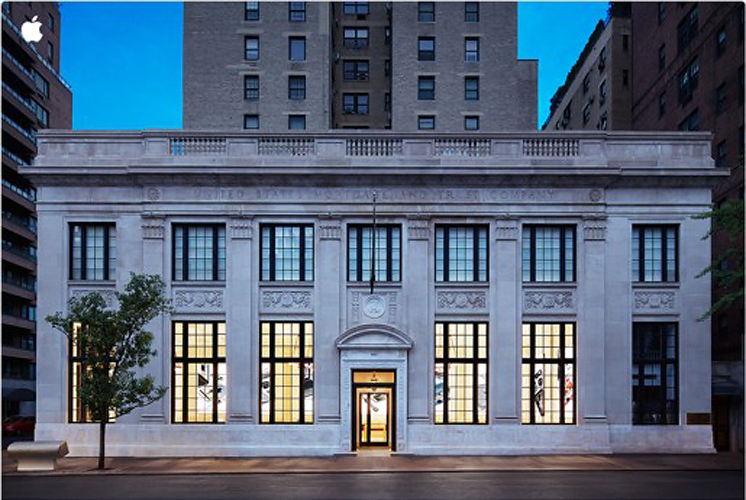 Apple Store, Upper East Side Opens in New York
A new Apple Store in Manhattan's Upper East Side opens today, the company's fifth retail store in New York to be designed by Bohlin Cywinski Jackson.
Located in an elegant, Beaux Arts building on Madison Avenue, the store was originally designed in 1922 to be the US Mortgage & Trust Bank. The neighborhood is characterized by a mixture of luxury-brand retail shops and several notable landmarks, including the Metropolitan Museum of Art and Marcel Breuer's Whitney Museum.
Realizing the potential of the existing building, Apple collaborated with Bohlin Cywinski Jackson and its consultant team to restore its general ambiance, with a priority on preservation. Sensitive alterations were needed to provide a suitable customer experience, including modifications to the main hall and the creation of new cellar spaces, which houses the bank's original vault.
Bohlin Cywinski Jackson led the reconstruction of the original banking hall, which now serves as the main sales floor, by moving partitions and mezzanines to create a light and airy quality. And while many original interior elements remained, several important finishes needed to be brought back to life, such as the marble entry, plaster coffered ceilings, and six original chandeliers, which were reproduced with the help of historic photographs and blueprints.
The cellar level involved considerable structural work with the removal of columns and thick bearing walls. This new arrangement now houses Apple's customer training programs and the company's most recent merchandizing concept for the display and sale of accessories. The original vault room is repurposed as a private sales space to allow for a more personal customer experience.
The building's exterior remained largely intact and was restored as closely as possible to its original condition. Paint, stone, and grout were reconditioned; the windows, which are mostly original, required significant repair and painting.
The design team collaborated with local artisans to leverage their expertise for the reconstruction work, including Aurora Lampworks (chandeliers), EverGreene Architectural Arts (plaster), and Nine Stone Marble & Tile (marble).
Additional New York stores designed by Bohlin Cywinski Jackson
Apple Store, Fifth Avenue (2006, 2011)
Apple Store, SoHo (2002, 2012)
Apple Store, Upper West Side (2009)
Apple Store, West 14th Street (2007)