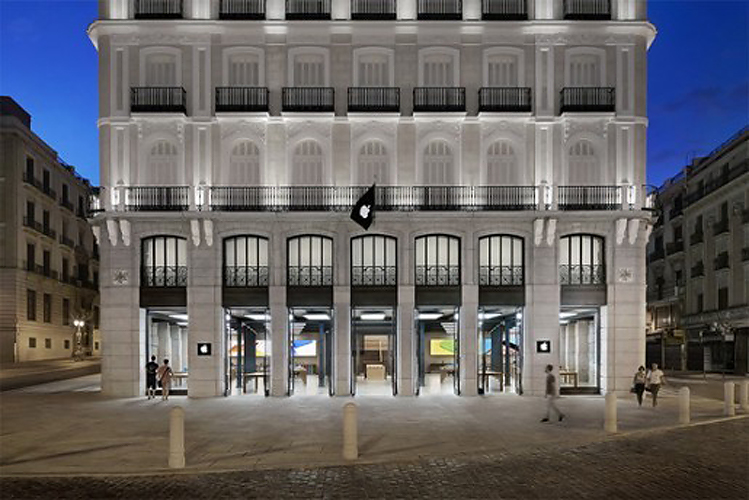 Apple Store, Puerta del Sol Opens in Madrid
A new Apple retail store opened last Saturday in Madrid.
This is Apple's fourth Bohlin Cywinski Jackson-designed store to open this year and the firm's third store located in Spain.
Located in the cultural center of Madrid and facing the vibrant Puerta del Sol plaza, this project is an extensive rehabilitation of a classic 1850s mid-rise hotel with the parallel goals of restoring the 19th century structure to its former beauty and reconnecting the building to the public life of the plaza. The landmark building housed a variety of tenants over its 150-year history, leading to many incongruous façade treatments and a cluttered arrangement of spaces. The charge of the project was to create a modern response to the neoclassical nature of the building while reorganizing its layout and circulation, and establishing a subtle rigor in keeping with the retail environments minimalist aesthetic.
At the ground and first floors, the granite façade has been carefully restored to its original character and geometry, while on the interior the same granite piers have been left rough-hewn and exposed, highlighting the robust nature of the building's structure. The massive piers are the primary organizing principle for the store's layout, defining the overall geometry of the space. Several lines of painted cast-steel columns, accurate historic replicas of the building's original cast iron columns, characterize the interior environment. The new ornamental columns carry a network of exposed steel beams and European oak wood decking. Each structural bay contains a wood product table and lighting panel, which are both centered on the adjacent oversized wood and glass storefront.
Bohlin Cywinski Jackson designed the store in collaboration with executive architects SPI, located in Milan, and BT/G4, from Barcelona.
Spain's Apple Retail Stores Designed by Bohlin Cywinski Jackson
Apple Store, Puerta del Sol, Madrid (2014)
Apple Store, Passeig de Gràcia, Barcelona (2012)
Apple Store, Calle Colón, Valencia (2011)