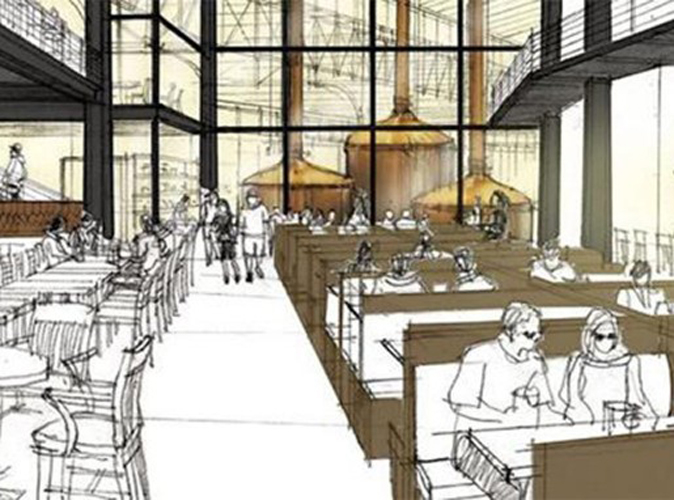 Anchor Selects Design Team For Pier 48 Brewery and Distillery Expansion
Anchor Brewers & Distillers has selected Lundberg Design and BCJ to design brewing, distilling and visitor amenities at Pier 48.
As the City's largest manufacturer, Anchor will continue operating its Potrero Hill facility while expanding production to Pier 48. The 212,000 square foot addition will allow the company to nearly quadruple its annual brewing from 180,000 barrels to 680,000 barrels and distilling production from 10,000 cases to 200,000 cases.
"Greg and I are excited to finally have this chance to work together," said Olle Lundberg. "We have always admired each other's work and I think it will be a fantastic opportunity to see what two great design firms come up with for Anchor on Pier 48."
"We think it is very exciting to bring industry and manufacturing back to the waterfront, and it will be a great addition for San Francisco," said Greg Mottola, principal at Bohlin Cywinski Jackson.
As part of the Port's Historic Embarcadero District, Pier 48 will be redesigned as a waterfront industrial center. The new Anchor space will feature production facilities, a restaurant and museum. A newly designed walkway around the pier apron will allow views into Anchor's new brewhouse and connect pedestrians to the port-walk.
"Anchor's connection with San Francisco goes back to the Gold Rush, so we are incredibly excited to be able to develop our capacity right in the heart of the city. In selecting our architects we seek to create more than a production center, but a new destination in the city for both locals and visitors alike," said Keith Greggor, CEO and co-owner of Anchor.
The Mission Rock development, which will cover 27 acres south of AT&T Park, is designed to include parks, office and retail space, parking, apartments and other amenities. The mixed-use project is currently undergoing environmental and planning review by the City and Port. Upon approval, anticipated for early 2015, construction will begin on Pier 48, with Anchor looking to begin production in the facility by 2016.