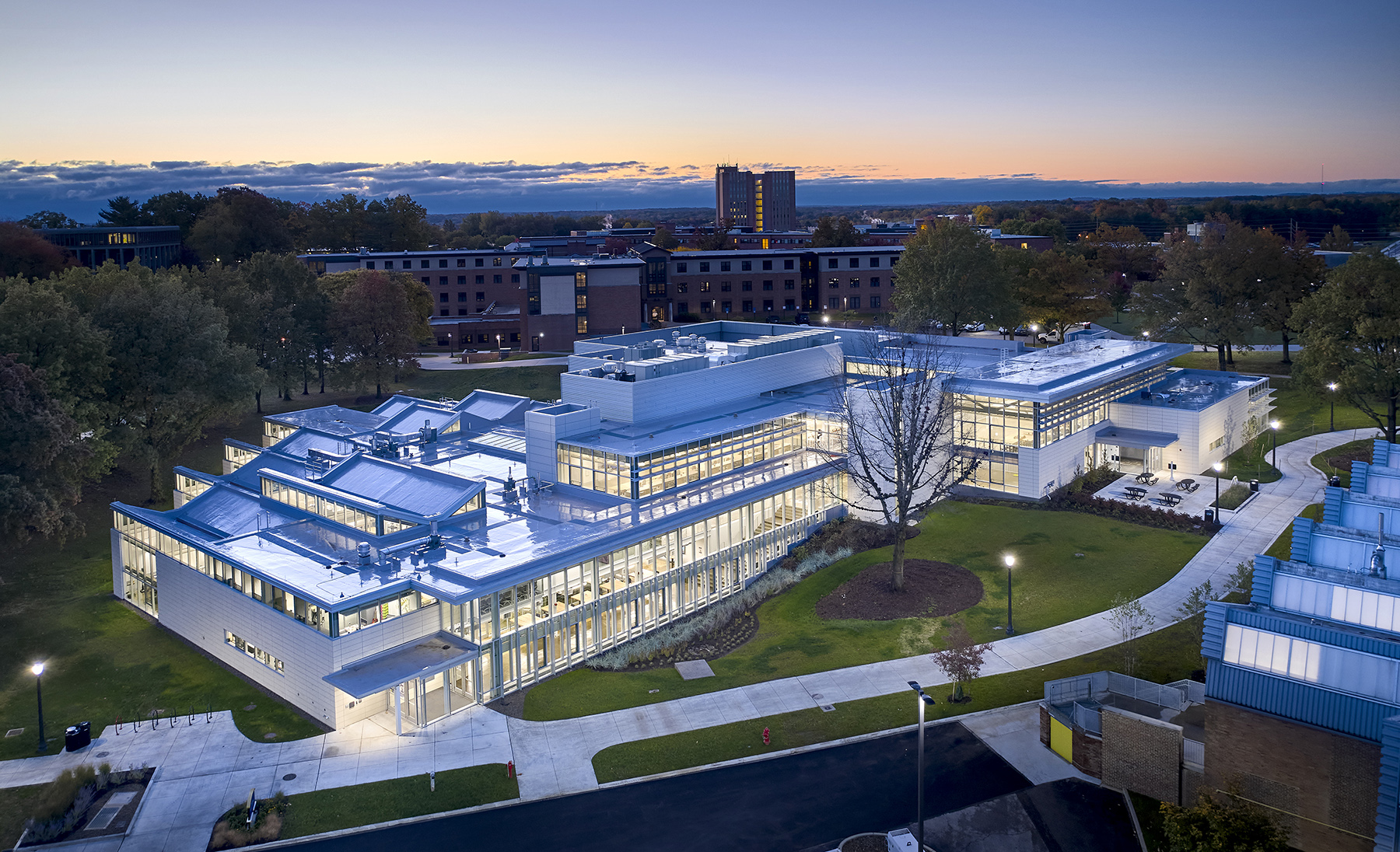 A Virtual Grand Opening for the Kent State University Design Innovation Hub
Bringing diverse disciplines under one roof, the DI Hub creates an accessible and highly visible creative ecosystem.
Kent State recently celebrated the grand opening of its new Design Innovation Hub (DI Hub) with a virtual walk-through accompanied by supporters, staff, and students. The 68,000 square-foot DI Hub is an adaptive re-use of the John Andrews-designed, 1970s-era former art building at the center of campus. Bohlin Cywinski Jackson worked with local firm Domokur Architects on the project. The DI Hub is a highly collaborative "owned by all, shared by all" environment that brings together students, faculty, members of the community, and leading experts from diverse disciplines under one roof, "using technology and design to become creative problem solvers," in the words of Kent State President Todd Diacon.
The walk-through offers an opportunity to explore the space while hearing from DI Hub students and staff introduce the range of uses in the building. The project includes seven different lab spaces as well as flexible classroom environments and an auditorium. Joined by staff and fellows in the Reactor Lab, Andrea Oleniczak, DI Hub's ecosystem manager, activated a "time since" capsule, marking the official launch of the Hub. Ohio Senator John Eklund, J.R. Campbell, Design Innovation Initiative's executive director, and others welcomed viewers and introduced the virtual walk-through experience.
The DI Hub connects design innovation nodes in locations across Kent campuses, providing a centralized resource and access to a range of tools, from augmented reality to printing and a state-of-the-art kitchen. As Campbell noted in his introduction to the virtual tour, "design innovation as a concept is very much about how we start to better connect with our community and alumni and business partners in the region and beyond." The new Design Innovation Hub at Kent State provides a home to create "a more visible and accessible ecosystem around the kind of tools, technologies and shared resources across the university," and to conceptually consider each of these environments these as maker environments.
Explore the new DI Hub at Kent State University here.
Photo credit: © Ed Massery