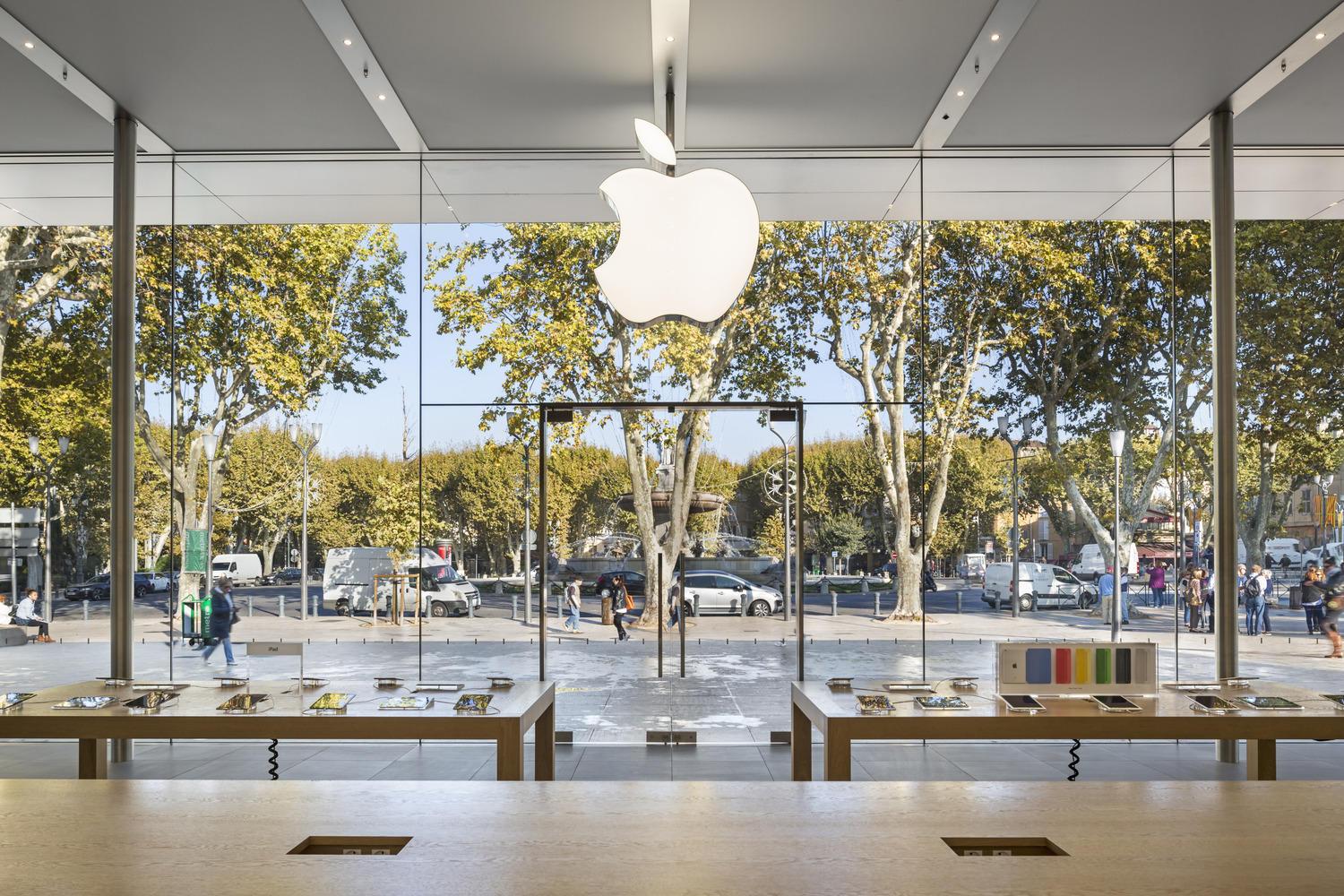 A Retail Legacy With Apple
Perhaps no series of projects has showcased the firm's design approach as prominently as the dozens of worldwide stores it designed for Apple.
What began as a bold enterprise, Apple's new store concept rapidly revolutionized the power of their brand and how a fresh approach to retail can produce inviting and stimulating shopping destinations. This was not accomplished by simply selecting new and sleek materials, but by thoughtfully designing places that honor the ethos of Apple's products and values while simultaneously crafting authentic and engaging customer experiences. Product displays, teaching areas, and technical services are prominently featured to educate and support each individual's pursuit of increased knowledge and creativity as they enthusiastically embrace the use of emerging digital tools and resources.
We have always prided our ability to both innovate and design places for people that feel inevitable, as though they've always been there; that our designs respect the unique characteristics of the surrounding context yet still elegantly and confidently standout. Working with an innovative tech company such as Apple encouraged this ability and unlocked the success of our 20-year partnership.
Our first store, in New York's SoHo neighborhood, adapted a neoclassical post office into a two-story destination that elegantly displayed products but also created an unparalleled product support environment. The maple, limestone, and stainless-steel materials—each individually minimal—formed a fresh aesthetic and the structural glass staircase a visual centerpiece. This dramatic arrival sequence and transparent experience became feature elements for numerous stores that followed and eventually emerged prominently with the firm's most recognized collaboration: the iconic Fifth Avenue store. The Cube's symbolic and structural achievement was further heightened by the revitalization of the site, the General Motors Building Plaza, which had grown awkward and lifeless despite its prominent location. Renewing places where people gather is rooted in our firm ethos, and similar site revitalization became an essential ambition for many Apple flagship stores world-wide.
Together, we pushed the boundaries of civic sites, historical contexts, and structural systems. We leveraged our deep understanding of how building technologies have evolved to also jointly pursue what is achievable when retrofitting a classic building—how new interventions are carefully integrated with the historic fabric—and establish an "old meets new" vision with builders and specialized crafts people.
Much like Steve Jobs would want to test dozens of prototypes for a new device, we helped Apple iterate the various circumstances and nuances of a site; from urban planning and store layout to the details of hairline panel joints or proper stair tread and riser cadence. Our simultaneous involvement in many of the global flagship stores allowed us to reinforce the consistency of their brand aesthetic and customer experience while continuing to innovate and invent.
The retail landscape has drastically changed with the convenience of online shopping, the incredible rise of social media marketing, and the resulting shift in buying preferences and habits. Yet, despite the fall of indoor shopping malls and big-box stores, customers still seek the tactile and tangible experience. Inundated with choice, customers now also desire more than a simple transaction. They want a blend of convenience, personal attention, and knowledge, but primarily, they want to trust the brands they buy from.
What we found most remarkable about working together was our mutual appreciation for details and energizing places where people come to learn and collaborate. Fundamentally, this is what drives our success and continues to positively impact the work we do beyond retail. We apply this experience to our workplace projects, incorporating technology and service while designing flexible and enjoyable environments for collaboration. We've also seen a rapidly growing number of academic institutions building mixed-use facilities that combine retail, dining, and interactive learning with the same goal in mind.
Apple remains a pioneer for adapting to and exceeding expectations for consumer behaviors and will continue to be a strong leader in the evolution of retail. Over nearly 20 years and 75 stores, we crafted experiences so much more than glassy storefronts. We restored historic structures, revitalized urban sites, encouraged a richness and innovation of materials, and designed spaces that continue to delight and gather community.